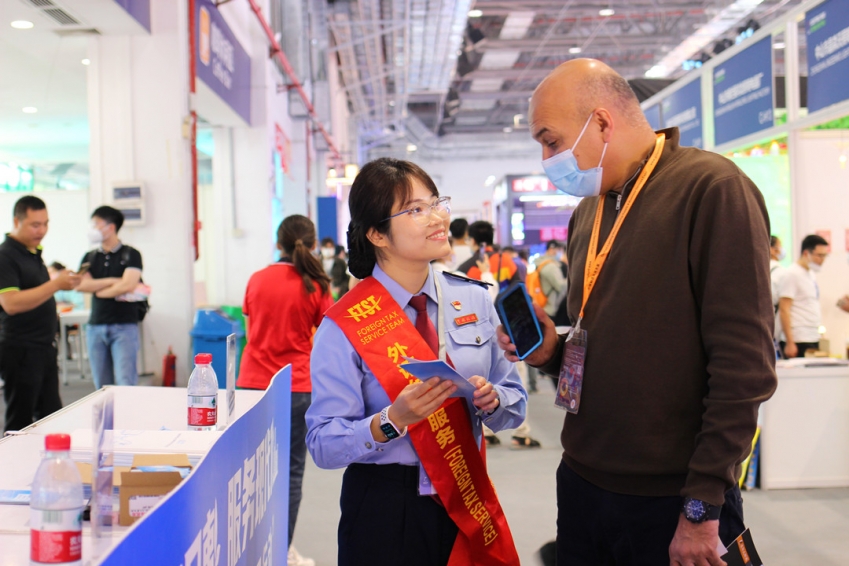 The 28th China (Guzhen) International Lighting Fair (GILF) was held in Guzhen, Zhongshan from March 18 to 21, bringing together foreign merchants from over 110 countries and regions.
To better serve foreign trade enterprises, Zhongshan's tax departments have provided foreign language tax service at the lighting fairs since 2021. The head of HEC Lighting, a lighting electric appliance maker in Zhongshan, praised the service team.
HEC Lighting is a Sino-foreign joint venture manufacturer. Under the "Belt and Road" initiative, the company exports its commercial LED lighting products to the Middle East, Pakistan and other places, maintaining sales growth for five consecutive years.
Habib Faisal, legal person of HEC Lighting, is from Pakistan. The foreign language tax service team introduced the "V-Tax visual taxation" system to him in their first meet at the 26th GILF in 2021. He was still impressed by the experience.
"Since 2021, tax officers in Guzhen Town bring us the English version of the latest tax policies every year and answer our questions in English, which is really impressive," said Habib.
As China accelerates the release of economic vitality, Habib has more new plans: "This year, we plan to invest another 6 million yuan to establish a new production line exclusively for China's domestic market."