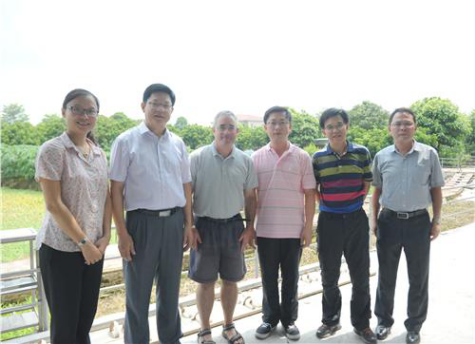 Accompanied by provincial foreign affair officers, a group led by the director of the U.S. Consulate General in Guangzhou Bai Dayong came to Zhongshan on 13th August and experienced the local ecological agriculture and leisure tourism culture through picking and tasting delicious Lingnan fruits. Deputy Secretary of municipal government Zou Xin gave the group a warm reception and made an introduction of the present economic and social development of Zhongshan. Deputy director of Municipal Foreign and Overseas Chinese Affairs Bureau Sun Haiqin also attended.

In his introduction, Zou Xin actively promoted the achievements Zhongshan has made in economy and society development in recent years and especially emphasized on the development situation of regional characteristic economy and the local characteristic culture of big agriculture, big ecology and big tourism with cores of "ecological agriculture + leisure tourism + characteristic food". He sincerely hoped the officers further promote the friendly exchange and cooperation between Zhongshan and America after they get the latest understanding of the development of Zhongshan. Mr. Bai Dayong highly appreciated the favorable ecological environment and leisure tourism culture in Zhongshan and made good comments on the tasty local fruits.
Zhongshan has actively carried out the consulate diplomacy in recent years and continuously enhanced friendly exchange and cooperation with consulates in many countries. Such activities aim to promote the comprehensive image of suitable living, suitable doing and suitable travelling to officers in other countries by overall displaying special cultures in agriculture, tourism and food in Zhongshan.