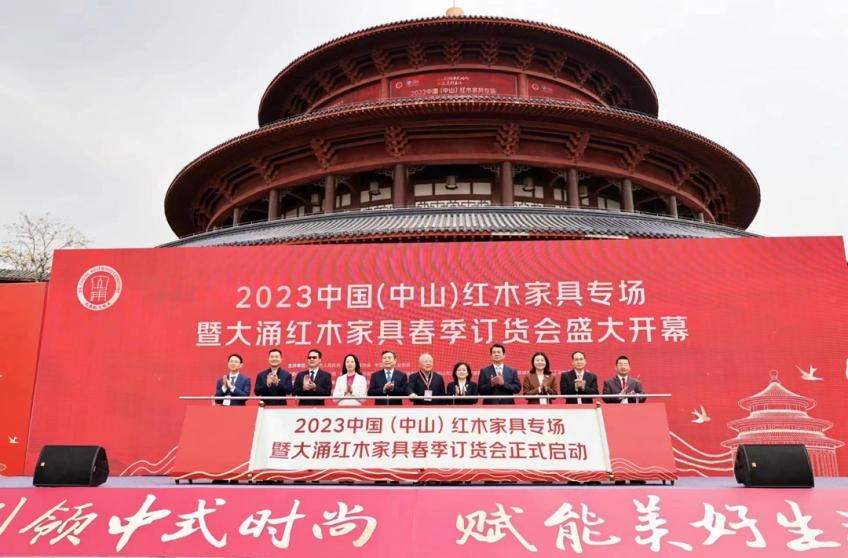 The opening ceremony. (Photo/Wen Bo)
The 2023 China (Zhongshan) Mahogany Furniture Expo & Dachong Mahogany Furniture Spring Fair (Mahogany Furniture Expo), which will run for 18 days, opened on March 14 in Zhongshan's Dachong Town, also known as China's Rosewood Small Town.
At the opening ceremony, Dachong released the conceptual plan for building the Qichong Bochao Block and called for investment from the globe. The Qichong Bochao Block, with the Chinese Rosewood Culture Expo City at the center, is a 1,000-mu mahogany business district that integrates culture, commerce and tourism elements. Efforts will be made in improving the elevation of the streets within the block and creating a strong business atmosphere to reshape the image of the "Dachong Rosewood" brand.
Signing ceremonies were held for key projects in the mahogany business district, including the Dosen Museum of Mahogany Culture, the Hongguxuan Smart Factory, a university-industry cooperation project of the Mahogany Home Furnishing Academy of Zhongshan Polytechnic, and a culture and tourism project of the Chinese Rosewood Culture Expo City.
The Luban Exhibition Hall, a key exhibition area during this Mahogany Furniture Expo, displays the prize-winning furniture of the 2nd Zhongshan "Craft Furniture Luban Award", to show Zhongshan's new and fine mahogany furniture to merchants.
The highly anticipated "E-Map of Dachong Rosewood Furniture Manufacturers" was also launched at the opening ceremony, with which merchants and consumers can easily get access to information of furniture stores and products.
Free shuttle bus service is offered to tourists for the first time.