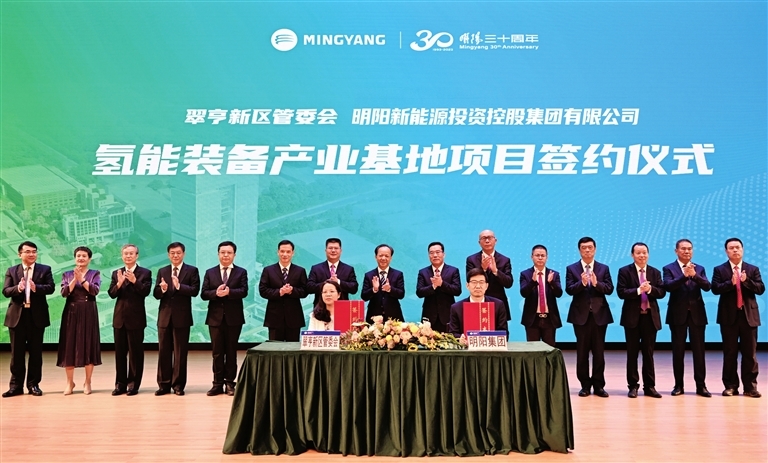 Mingyang Group held a grand ceremony on June 1 to celebrate its 30th anniversary and released the strategic planning at its newly-completed global headquarters.
Founded in 1993, Mingyang Group is specialized in the R&D and production of high-end new energy equipment. It business scopecovers the development and operation of such clean energy resources as wind power, ocean energy, solar energy, smart electricity, space energy and hydrogen energy, equippment manufacturing and engineering technical services. Over three decades' development, Mingyang has become an international industrial group, and it is among China's top 500 companies and world's top 500 new energy companies.
At the ceremony, Mingyang released its strategic planning and nine implementation strategies. In the coming five years, Mingyang Group plans to create seven business clusters covering the marine economy, the photohydrogen industry and high-end equipment manufacturing, and develop globally leading technologies for achieving "Peak Carbon Emission" and "Carbon Neutrality", R&D innovation and equippment manufacturing, so as to realize its goal of becoming a Fortune Global 500 company.
Mingyang New Energy Investment Holding Group Co. Ltd and Tsuihang New District also signed a new project, which aims to build a high-end intelligent electrical equipment and hydrogen industry base with a total investment of 6 billion yuan.