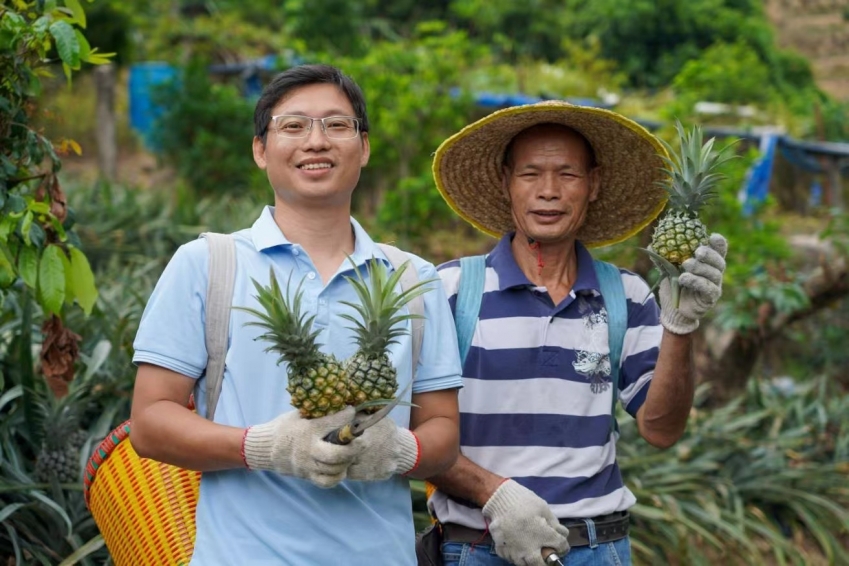 According to a CCTV news report, Zhongshan's Shenwan Pineapple enters the harvest season and is seeing a massive sales boom.
This year, Shenwan reported a pineapple growing area of 4,000 mu and an annual output of 7,000 tons, worth more than 100 million yuan. So far, about 70% of Shenwan Pineapples have ripened or been picked.
A busy scene can be seen in Xiuquan Fruit Farm at the southern foot of Yajishan Forest Park. The owner, Ye Wenjie, born in the 1980s, was introducing pineapple growing techniques and related knowledge to a corporate team.
The 50-mu farm is a provincial model family farm, with a history of over 100 years in growing Shenwan Pineapples. This year, Ye became the inheritor of Shenwan Pineapple Growing Techniques, an intangible cultural heritage item of Zhongshan.
"In recent years, the yield and quality of Shenwan Pineapples we grow improve thanks to the help of experts from agricultural departments," said Ye. Also, pineapple growers have seen increase in income.
With the implementation of the rural revitalization strategy, Shenwan Town makes great efforts to build pineapple culture industry parks and has held Shenwan Pineapple Culture & Tourism Week for three consecutive years. As a result, the popularity of Shenwan as a tourist destination has seen consistent growth.