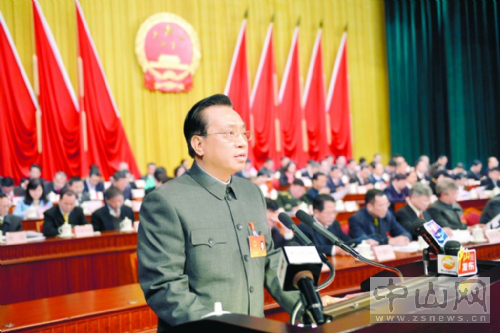 A review of the Work in the 12th Five-Year Plan and in 2015
                   Mayor Chen Liangxian is delivering the report on the work of Zhongshan Municipal People Congress.
                             Report on the Work of the Government (Abstract) (Jan. 21th, 2016 by Chen Liangxian)
At the 7th Session of the 14th Zhongshan Municipal People Congress on January 21, 2016

During the 12th Five-Year Plan, we have achieved a great success, and have accomplished all the targets and tasks set in the 12th Five-Year Plan and in 2015.

The overall strength has moved to a new level. At the end of the 12th Five-Year Plan, its GDP is estimated to reach 300 billion yuan, up by 10.1% per year. The per capita GDP reaches 94,000 yuan, an increase of 9.1% per year. The profits of industrial enterprises have increased by 156.62 billion yuan, and have accumulated to 693 billion yuan in the past five years, 1.7 times as much as the amount of the 11th Five-Year Plan, an increase of 10.4% per year. The service sector has increased by 131 billion yuan, an increase of 9.5%. The fixed asset investment was 105.54 billion yuan, and the overall investment in the 12th Five-Year Plan has made a breakthrough of 450 billion yuan, an increase of 17.1% per year. The total retail sales volume of social consumer goods is 108 billion yuan, an increase of 11.5% per year. The overall amount of export was up to 28 billion US dollars, an increase of 4.5% per year. The local general public budget income hits 28.75 billion yuan. The urbanization rate increases to 88.1%.

New progress has been made in transforming and upgrading. Cuiheng New District has become a base for cross-strait communication, the demonstration zone of Guangdong-Macau cooperation and one of the first demonstration bases of the trade liberalization of Guangdong-Hong Kong-Macau. It has also been listed as the provincial major strategic development platform. The ratio of the three industries has been adapted from 2.7:58:39.3 to 23:54.2:43.5. The ratio of the light and heavy industry has been adapted from 59.8:40.2 to 55.5:44.5. The amount of foreign investments is 8 times larger than that of the 11th Five-Year Plan. The first car manufacturing and sales project settles down in Zhongshan. In 2015, the proportions of added value of the equipment manufacturing industry and the advanced manufacturing industry out of that of the scale industrial enterprises have respectively increased by 2.6% and 1.6%. The investment on the industrial technological innovation has increased by 69.5%. The R&D expenditures make up 2.5% of the GDP, which tops Guangdong Province.

A breakthrough has been made in reform and opening-up. The further opening-up of Zhongshan Port has been approved, which has signed the cooperation agreement of free voyage of yacht with Macau. Also, Zhongshan has become the national pilot city of logistic standardization. A cross-border E-commerce industrial center has been established and the three major platforms of cross-border E-commerce will soon be put into use. Zhongshan ranks No. 5 among Top 100 E-commerce City and accounts for 2 of the 10 key provincial import commodity trade centers.

Infrastructure has been leveled up. During the 12th Five-Year Plan, we plan to invest 23 billion yuan to expedite the development of transportation, 1.4 times as much as that in the 11th Five-Year Plan. Shenzhen-Zhongshan Bridge has got NDRC approval, and now the connecting line of the two sides is under construction. The west line of Guangzhou-Zhuhai Railway, Cuiheng Expressway, Fuyuan Road, Shagu Highway, the overpass bridge National Highway 105, Fugang Highway, Zhonghuan Road and the Henglan section of Provincial Highway S268 have opened to traffic. Zhongshan-Kaiping Highway has been under construction, and the construction of Guangzhou-Zhongshan-Jiangmen Highway, the second phase of Gushen Road and the Forth Vertical Line Project has been accelerated. With the additional 700km, the overall length of the open highways in Zhongshan has added up to 2610 km. Guangzhou-Zhuhai intercity Mass Rapid Transit has opened to traffic. The construction of the infrastructure of Cuiheng New District has started, and the construction of Zhongshan Port shift to the east has been accelerated.

Eco-environment has been improved. We carry out public tree-planting campaign to build Zhongshan into a national eco-city. We have invested almost 5 billion yuan in greening. Until now, the forest stocks have reached 3.275 million m? and the coverage rate of forest has risen from 19.1% in 2010 to 22.5%. 125 villages have been conferred the honor of beautiful Village? 18 parks such as arboretum have been built. The reconstruction of 23 parks such as Zimaling Park and the construction of Rainbow Oasis Park, Jingzishan Park are progressing steadily.

Living standard has been improved. The average disposal income of the permanent residents in both urban and rural areas has respectively increased by 10.1% and 11.6%. The ratio of the income of urban and rural residents has decreased to 1.53:1. The consumption price index has grown by 2.4% per year. We have been conferred the honor of ational Health City on secutively and so far, we have built 15 national health towns. The average life expectancy is 78.8 years old. 20,000 new low-income houses and 29 home-based elderly care centers have been built. 700 million yuan allowance has been allocated to the elderly. 31.09 billion yuan has been invested in education in the past five years. Zhongshan became the third provincial advanced city that carries out modernization of education, the national historic and cultural city, and the national pilot city of grassroots?integrated cultural service center in 2015. It was awarded ational Civilized City?in consecutive four years and praised for being the pilot city of public exercising.

Social governance has been improved. We have implemented 10 major social governance projects, and thus been awarded the honor of national Excellent Prefecture-level City of Social Management and Integrated Governance? Because of our pragmatic approaches to the public social governance activities, Zhongshan has become the national demonstration region of social work services. By the time when ?+8+N?Mode is selected as one of top 10 best national innovative social governance cases, we have built 286 Communal integrated service halls. It is the 5th time that we have been awarded the national Excellent Prefecture-level City of the Integrated Governance in Social Security?

Outlooks for the 13th Five-Year Plan

Main Targets in the 13th Five-Year Plan

--Taking the lead in building an all-round well-to-do society.
2017 is the target-year for us to build an all-round well-to-do society, the all-round well-to-do composite index being over 97% and regional GDP increasing around 8.5% per year.

--Basically building an institutional framework under the principles of marketization, internationalization and rule of law.
We should take a lead in the reform of economic and social development in crucial fields and key sections, building a basic institutional framework in every single field and creating an international business environment under the norms of rule of law, convenience of investment and trade, safety and effectiveness of supervision.

--Basically building an open regional innovation system.

We will implement innovation-driven strategies, and fasten the construction of national innovative city. We will try our best to make a breakthrough in technological innovation, and form an initial open regional innovation system and innovative economic formation. By 2020, R&D expenditures will make up 2.9% of GDP.

--Basically building a modern industrial system with core competitiveness.
We will expand the development through networking, digitization and intellectualization, build an intelligent manufacturing city and a networking city, improve the development of modern service sectors and advanced manufacturing sectors, speed up the development of strategic emerging industries as well as the upgrading of traditional superior industries, achieve an outstanding progress in agricultural modernization, and build a basic modern industrial system. By 2020, the GDP of the starting areas in Cuiheng New District will reach 50 billion yuan, becoming a potent growth pole for the city development.

--Basically forming a perfect integrated transportation system

We will stick to it that the city development should be driven by transportation. Thus, we will build a our vertical and four horizontal?highway network and a three circle and ten radiation line?expressway network framework, strengthen the internal and external transportation connections, advance the construction of city subway, and optimize ports?layout. We will set a contingent plan for dealing with arising problems and emergencies after the Shenzhen-Zhongshan expressway, the Hong Kong-Zhuhai-Macaw Bridge and the Shenzhen-Maoming Railway open to traffic.

--Basically forming a new developing pattern characterized with green and low-carbon

We will make our lifestyle and production become greener and emit less carbon. We are striving for becoming the National Forest City and building the national demonstration city of ecological civilization construction.

Working arrangements for 2016

Main targets in 2016:
-Making an increase of 8%-8.5% in GDP, over 15% in fixed investment, over 10% in the total retail sales of social consumer goods, over 1% in overall amount of export and about 9% in general public budget income.
-Ensuring that personal incomes are basically proportional to the economic growth.
-Keeping the increase of CPI at around 2%.
-Ensuring that the registered unemployment rate in the central city and towns does not exceed 3.5%.
-Accomplishing the annual provincial plan of the obligatory target in energy saving and emission reduction.

We need to concentrate on the following six aspects of works:

1.Improving quality and efficiency to stimulate steady growth and fast transformation of the economy

-Expanding effective investments
We will arrange 210 key municipal projects and make an annual planned investment of 38.1 billion yuan. According to the industrial orientation of developing equipments of high-grade, precise and advanced? we are going to attract high-end equipments manufacturing projects, prioritize the development of intelligent manufacturing, photoelectric devices, new energy equipments, medical devices, and etc, also, remain at the cutting edge in keeping a certain amount and maintain a high quality of machine tools enterprises in Guangdong province. And we will optimize the investment services and introduce over-100-million projects to our city and facilitate 11 hydraulic engineering projects.

-Expanding domestic and foreign markets
We will promote the cooperation platform of home and abroad and set up exhibition centers for selling our local products in countries, such as South Africa, Indonesia and Nigeria.

-Developing the real economy
We will develop an industrial city that is strong and with high quality, allocate 15 billion yuan of industrial government-support fund, advance the integrated improvement of industrial parks and build national demonstration city of

-Improving efficiency of element resources allocation
We will optimize the resource allocation in towns and fasten the distribution of factors of production for areas with high productivity.

-Developing modern service sectors
We will strengthen the connection and cooperation with Hong Kong and Macau through Shenzhen-Zhongshan Expressway, Hong Kong-Zhuhai-Macau Bridge and Shenzhen-Maoming Railway.

-Stimulating the modernization of agriculture
We will speed up the construction of the demonstration zone of cross-strait agricultural operation among 4 regions, and build a new platform for developing modern agriculture. We will allocate 11 billion yuan from municipal finance for agricultural development. We will develop characteristic agriculture, advance the integrated development of the first, second and third industries, and foster modern family farms that are large in scales and strong in promotions.

2.Sticking to innovation-driven pattern and improving industrial core competitiveness

We will implement core strategies that development is driven by innovation. We will develop an innovation-driven economy from the factor-driven economy and thus, form institutional arrangements driven by innovations. We will reinforce to attract talents and make our city full of innovative and entrepreneurial vigor.

--Improving the innovation capability of enterprises
We will build more R&D institutions of enterprises and implement policies of subsidizing R&D expenditures and innovation vouchers for enterprises, and make a net increase of more than 100 high-tech enterprises.

--Reinforcing technological transformation
We will promote the deep convergence of digitalization, intellectualization and industrialization, implement ?nternet Plus?and Big Data projects, and build cloud service platform such as E-government cloud and industrial cloud.

--Fastening the construction of major innovative carriers.
We will participate in the construction of national independent innovation demonstration zone in Pearl River Delta, establish and improve Shenzhen & Zhongshan cooperative innovation system, explore ne Park & Multi-zone?developing mode, and strengthen the combined effect and radiation effect of Torch Hi-tech Industrial Development Zone and Cuiheng New District. We will begin to build a large-scale scientific instruments sharing platform, establish Guangdong Academy of Sciences, Zhongshan institute and National Supercomputing Guangzhou center, Zhongshan sub-center.

--Promoting the convergence between technology and finance
We will develop new types of financing such as science and technology banks, intellectual property mortgage financing, science technology insurance, Internet finance, and etc.

--Reinforcing the innovation of industrial organization
We will stimulate the industrial convergence, vertically integrate some traditional superior industries such as Mercure, and strengthen the construction of regional brands, industrial brands and union standards.

--Attracting innovative talents to settle down in Zhongshan
We are planning to introduce overseas high-level and innovative talents, implement the new Entrepreneur Program and foster high-tech talents. We will faster the construction of innovative and entrepreneurial eco-park, and create a union platform for innovative enterprises and talents services.

3.Deeping reform and improving quality and level of opening-up

--Deeping reform in major fields and key sections to form a mechanism that improves economic and social development
We will develop a more proactive opening-up strategy, stimulate the mutual promotion between opening-up both internationally and domestically and the closely connection between bringing in?and going out? and build a higher-level opening up.

--Creating an internationalized business environment that practices rule of law
We will deepen the reform of administrative examination and approval, improve the system of listing all items over which government review and approval are required, work harder to streamline administration and delegate more power to lower departments, strengthen regulations in process and afterwards, improve city administrative service centers, and consolidate the achievement of the system that integrate all examination and approval functions into one administrative office, offices that are responsible for examining and approving into municipal administrative service center, all examination and approval procedures into online service, and makes the examination and approval authority apart from supervision.

--Fastening the transformation and upgrading of foreign trade
We will make a transition of foreign trade into high quality and favorable price?and quality imports and quality exports? stimulate processing trade enterprises to enhance R&D and foster self-owned brands, facilitate the construction of national and provincial demonstration base of Guzhen and Nantou, of which foreign trade are under transformation and upgrading, build a quality safety demonstration zone of export industrial products, improve policy-support mechanism for cross-border E-commerce and build an industrial functional areas for cross-border export E-commerce.

--Introducing a higher level of bringing in?and going out?in stride
We will support the two-way investment of bring in?and going out? introduce a ual Platform?of home and abroad interactive service mode, encourage enterprises to set up industrial parks abroad, build ?oing out?service centers and information platform of integrated service, and plan to participate in the national ne Belt, One Road?project.

--Strengthening regional cooperation in an all round manner
We will actively connect with Nansha, Qianhai and Hengqin Free Trade Zone, borrow useful policies in FTZs as soon as possible, facilitate the Framework Agreement of Guangdong-Hong Kong and Guangdong-Macau Cooperation, speed up free voyage of yacht between Zhongshan and Macau, achieve the liberalization of trade in services among Guangdong, Hong Kong and Macau, facilitate the construction of provincial Outsourcing Demonstration City. We will achieve the strategic cooperation of the joint development between Zhongshan and Shenzhen, strengthen industrial tie-in, and build a half-hour economic and living circle?in a joint effort.

4.Taking all things into consideration in planning and building a new pattern of modern city

--Respecting norms of urban development
We will strengthen live Coordination? proactively merge into Guangdong, Hong Kong, Macau Bay Area, optimize urban functional arrangements, transform developing patterns, improve governance system, form new driving forces and build a new type of city that characterizes smart-growth, impact and intensive, efficient and green.

--Improving urban functional quality

--Fastening the construction of basic infrastructures of transportation
We will start the main part of Shenzhen-Zhongshan Passage Project, speed up constructions of Zhongshan-Kaiping Highway and Xiaolan Branch Line, and Guangzhou-Zhongshan-Jiangmen Highway. We will work harder to start Shenzhen-Maoming Railway, Shenzhen-Zhongshan-Jiangmen Section as soon as possible, and make the extension of Zhongshan Port Bridge and the Second Phase of the north section of Gushen Road put into traffic. We will also reconstruct the bus terminal and promote the passenger terminal of Zhongshan Port shift to the east.

--Innovating urban management modes
We will fasten the construction of urban, town and village government affairs service system, achieve the normalization and standardization of communal integrated service halls, and build an integrated platform of grassroots?public service. We will also improve the public social governance mechanism as well as urban administrative digital platform, and set pilot programs in the construction of rural communities.

--Building a leisure tourism city
We will strengthen the coordination and the integrated planning of tourism resources, build an all-round tourism structure, implement ourism Plus?Project, promote the convergence between tourism and other formats such as leisure agriculture, characteristic industry, health care, cultural innovation, media and entertainment, and foster new types tourism formats. We will work harder to make Sun Yet-sen hometown tourist area become the national 5A-grade scenic spot and expand the awareness and influence of the tourism of Zhongshan.

5.Prioritizing the Eco-environment and building an idyllic homeland where the sky is blue and the water runs clear

Green and low-carbon should always be the preliminary of development. We should improve the supplying capacity of eco-products, create harmony between man and nature and build a livable city that is beautiful and clean.

--Strengthening environmental protection and ecological rehabilitation
We will strictly implement ecological control line, build an eco-protection system and accountability system, determine to close down outdated production facilities.

--Strengthening the integrated governance of water environment
According to the norms of ewage interception, silt cleaning and water supplement? we will implement inner-water restoration, improve and rehabilitate the water environment.

--Creating more green spaces
We will start to build a National Forest City, facilitate the construction of forest parks such as Dajian Mountain, Difeng Mountain, Tielu Mountain, advance the construction of wetland parks such as Cuiheng National Wetland Park, Xiqu Rainbow Oasis Park, Lianshiwan Wetland Park, fasten the construction of Guxiangling Park, Jingzishan Park and the Third Phase of Arboretum. We will expand the green area and develop more greenbelts in landscape forests, public green spaces and along rivers and roads.

6.Persisting in co-construction and sharing and improving people sense of gain

--Improving employment service and social welfare system
We will allocate 830 million yuan as social security expenditure for medical health and housing, improve healthcare payment and critical illness insurance system, keep pensions growing steadily, start the immediate settlement of remote medical treatment in Guangdong province, implement a more proactive employment and entrepreneurship policy for supporting college graduates, improve the mechanism to ensure stable growth of workers?income, implement the policy of strengthening agriculture, benefiting farmers, and enriching rural areas, and increase residents?income.

--Providing a better education that is more equitable
We will implement Pre-school universally Beneficial Project, make a balanced development of compulsory education, promote the intensive development of normal high school, fasten the coordinated development of secondary vocational education and advance the integrated reform of vocational education.

--Developing Medical and Health Care
We will start the integrated reform of public hospitals, build a new mechanism that embraces public welfare, generates enthusiasm and safeguards sustainability. We will deepen egional Medical Union?pilot and fasten the development of private hospitals.

--Facilitating the development of culture and sports
We will host commemorative activities of the 150th anniversary of Sun Yet-sen birthday, facilitate the cultural programs such as Sun Yet-sen Memorial Library, museums, Xiaolan Cultural and Sports Center, work harder to protect noted historic and cultural cities, strengthen the protection and development of ancient architectures, ancient villages, famous people? old houses, beautiful villages and intangible cultural heritage items, build a distinctive cultural tourism brand and try to build harity Parade?a distinctive new folk festival full of Zhongshan spirits.

--Maintaining the social safety and stability
We will fasten to improve a multi-dimensional social security control system, develop a afer Zhongshan? and strike for the National Safest City.

--Completing Top 10 livelihood projects
We will invest 960 million yuan in Top 10 livelihood projects. They are: Drinking Water Safety Project, Food Safety Project, Public Health Beneficial Project, Transportation Smoothing Project, Environmental Improvement Project, Elderly Caring Project, Child Caring Project, Project for promoting employment by entrepreneurship, Project of building National Drug Control Demonstration City, and, Project for making government affairs convenient to people.

Fellow representatives, under the leadership of CPC Zhongshan Committee, let us gather our wisdom, pull together, work solidly to deliver concrete results, hold a pioneering spirit, and work harder in building Zhongshan into a more beautiful city suitable for living, innovation and entrepreneurship!