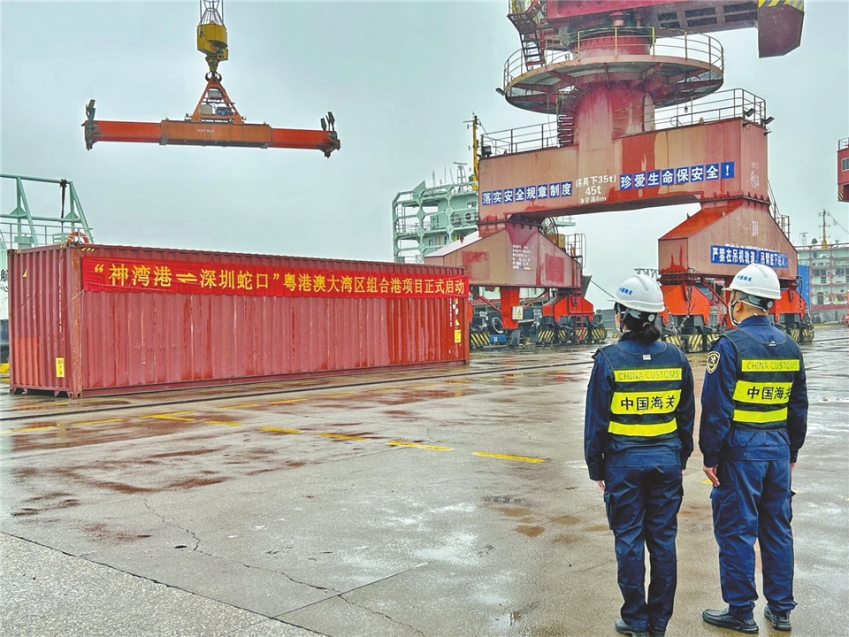 The Zhongshan Shenwan-Shenzhen Shekou combined ports route has been launched recently. After customs clearance at Shenwan Port, Zhongshan, a bathc of cupboards produced by Zhongshan Haoxin Furniture Co Ltd were loaded on the barge "Zhonghang 929" under the "GBA combined ports" mode, and will be directly transferred to an international freighter upon its arrival at Shekou Port, Shenzhen.
Located in the south of Zhongshan, Shenwan Port is an important port via which foreign trade enterprises in Shenwan, Banfu, Tanzhou and other surrounding towns and districts export furniture, toys and other commodities.
To further facilitate the export of Zhongshan-made products, Zhongshan Port Customs has worked closely with the customs departments of Shenzhen's Shekou among other places to practice the "GBA combined ports" mode that features port code sharing and mutual recognition of customs supervision. Just one-off customs declaration, inspection and release, the combined ports mode can ensure the seamless connection of shipping logistics between Shenwan Port and Shekou Port, and significantly save customs clearance time and transportation costs.
"The combined ports mode has brought us great convenience, reduced the overall shipping time of exported goods by about 3 days, and saved us the cost of customs clearance," said Xu Xiaohua, deputy general manager of Zhongshan Huahui International Freight Forwarding Co Ltd.