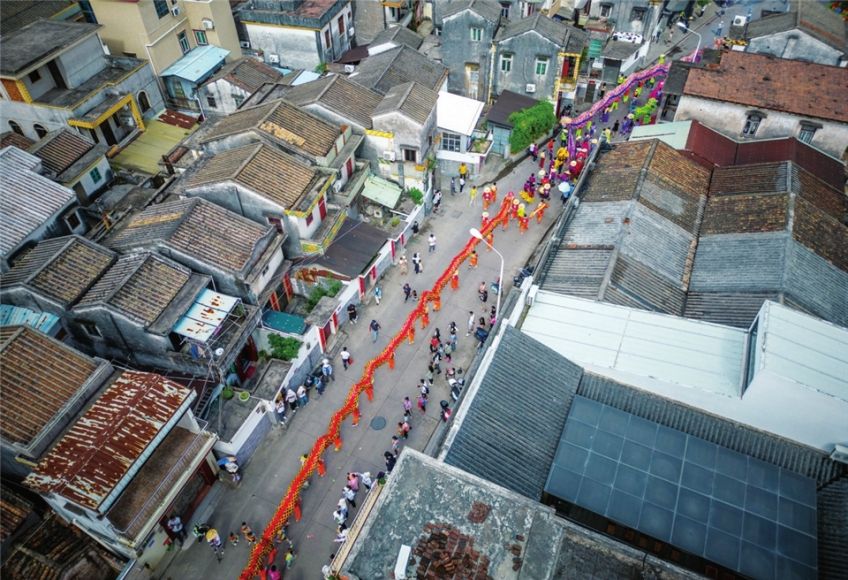 On May 26, or the eighth day of the fourth lunar month, a variety of traditional folk parades were held across Zhongshan, presenting spectacular cultural feasts to residents, while also showing the charm of Zhongshan's traditional folk customs and intangible cultural heritage.
As a provincial intangible cultural heritage item, Shaxi Lunar April 8 folk art parade has a history of more than 400 years. This year, Shaxi launches the Zhongshan Shaxi Intangible Cultural Heritage Tourism Culture Week for the first time, which includes seven major activities, namely folk art parade, Intangible Cultural Heritage Bazaar, Wushu Culture Exchange, Intangible Cultural Heritage Cartoon Exhibition, Intangible Cultural Heritage Study Tour, Intangible Cultural Heritage Handicraft Bazaar, and Intangible Cultural Heritage Tourism Banquet.
In West District, the long parade team attracted onlookers with laughter and singing. This year's Drunken Dragon Dance show featured a stunning fire-breathing performance, which wowed the audience. As the largest Drunken Dragon parade ever in West District, this year's event also included intangible cultural heritage experience sessions, theme bazaars and cultural performances.
At nightfall, the 1st Longhuan Fire Dragon Folk Culture Show took place in South District. Local people and tourists ate delicacies and made handicrafts amid the lively sound of Cantonese opera, and a number of folk craftsmen made handicrafts to reproduce the Fire Dragon Dance for the youth.