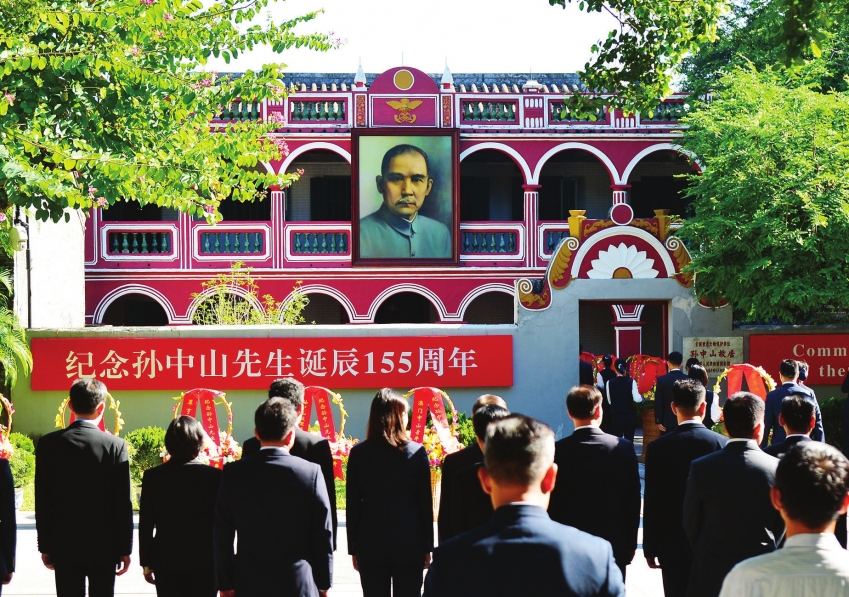 A ceremony to commemorate the 155th anniversary of Dr Sun Yat-sen's birth was held at Sun Yat-sen's former residence on November 12.
Attendees stood in silence and bowed three times to Sun Yat-sen's portrait, and representatives of government departments and organizations presented flower baskets to express their respect and admiration towards Sun Yat-sen.
After the ceremony, Guo Wenhai, secretary of the Zhongshan Municipal Party Committee, communicated with Sun Bisheng, great-grandnephew of Sun Yat-sen. They also visited the Museum of Dr Sun Yat-sen together.
Guo Wenhai stated that more brand activities will be planned and held to concentrate the intelligent power from Hong Kong, Macao and Taiwan compatriots and overseas Chinese to build Zhongshan into a patriotic education base by taking full use of the Sun Yat-sen Culture.
On the same day, the "National Rejuvenation - Sun Yat-sen and His Supporters in 1911 Collection Exhibition" opened at the Museum of Dr Sun Yat-sen. The exhibition featured letters, telegrams and photos of Sun Yat-sen and his supporters.