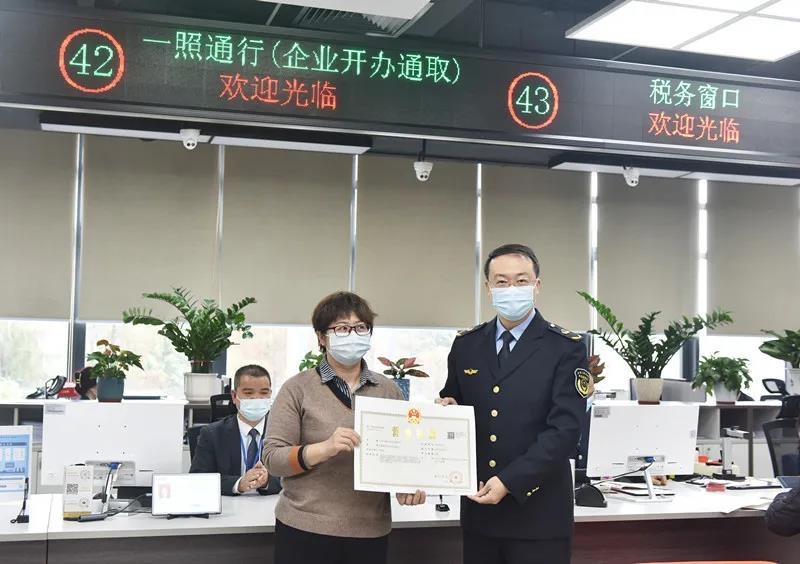 On January 20, a ceremony was held in Xiaolan Town for the launching of Zhongshan's "one-for-all business license" service platform. Li Na was the first person to use the service and obtained a business license for Zhongshan Lieyuwang Agricultural Products Co Ltd from Gao Peipeng, director of the Zhongshan Administration for Market Regulation.
This is the first "one-for-all business license" issued in Zhongshan. The new business license program conglomerates the various existing public licenses such as food preparation licenses and health licenses into one form.
Government staff gave a demonstration at the launch ceremony. Enterprises only need to log in to the Zhongshan division of the Guangdong provincial service website (http://www.gdzwfw.gov.cn/portal/index?region=442000&t=1643076606524), enter the "one-for-all business license" portal, fill in the information, and submit the requested materials online. Thus, the business license as well as a number of licensing matters involved in the business can be handled at one time, including basic services such as registration, opening a bank account, official seal creation, tax services (invoice application), employee insurance registration, housing fund payment and deposits, as well as multiple business licenses.
In May 2021, Zhongshan carried out a pilot program of the "one-for-all business license" service aiming to achieve a system with one-time application and allowing parallel approval of many licensing matters involved in different business models and business licenses. The license reform integrates all kinds of license information onto one business license and with the new "one-for-all business license" service platform, the first 17 enterprise-related approval service reforms have been implemented.