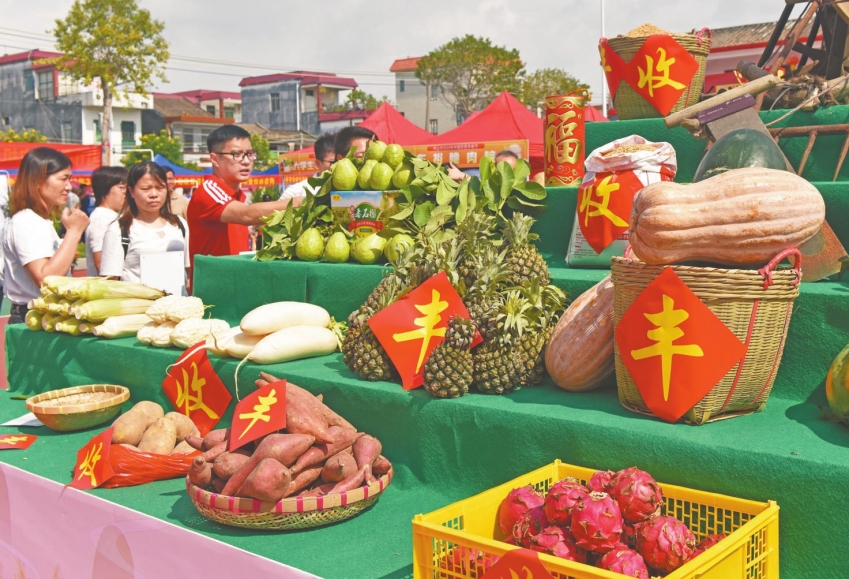 Zhongshan launched a series of activities to celebrate the 2020 Chinese Farmers' Harvest Festival and the Poverty Alleviation Consumption Month in Wusha Village, Henglan Town on September 23. Melodious and wonderful Salty Water Songs showed off the characteristics of the water village culture, and a promotional video presented the rural images of Zhongshan, showing the joy of the farmers' harvest.
At the celebration site, a signing ceremony of strategic cooperation agreements, an awards ceremony for exemplary municipal family farms and farmers' cooperatives, a ceremony for agricultural science and technology commissions were held.
This year, the production and supply of major agricultural products in Zhongshan is sufficient. The seedling market trade ranks first in southern China and the output of freshwater animal breeding ranks fifth in Guangdong province. Vegetables exported to Macao account for 50% of local market. Special agricultural products such as Shiqi Squab, Zhongshan Crisped Grass Carp, Huangpu Preserved Meat, Shenwan Pineapple, and Tanzhou Pearl Guava are becoming more and more famous.
Statistics from Zhongshan's agricultural department show that in the first half of this year, the total output value of the city's agriculture, forestry, animal husbandry, and fisheries industries exceeded 4.6 billion yuan, and the output of fruit, poultry meat, and egg industries increased by 20.6%, 44.1%, and 6.5% respectively. By the end of July this year, the summer grain harvest area reached 21,800 mu (about 1453.3 hectares), an increase of 32% over last year. The total summer grain harvest was about 9,400 tons, with an increase of 25% year on year.