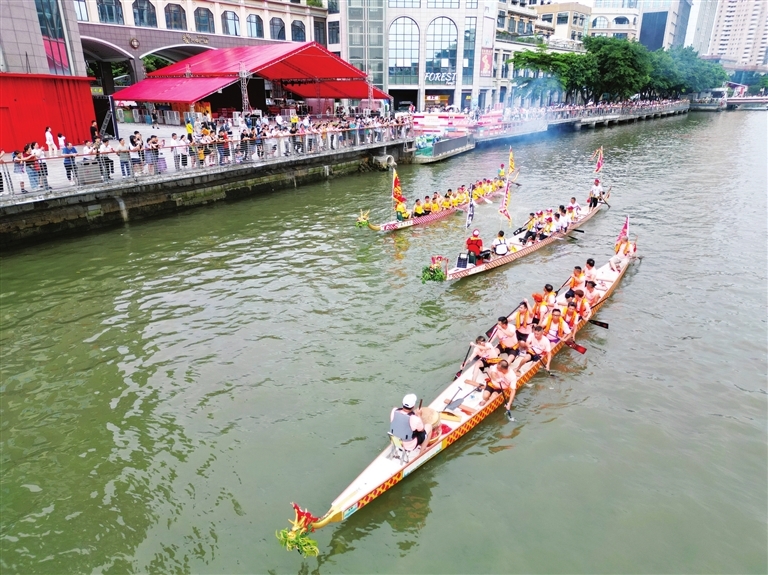 The 2023 Guangdong-Hong Kong-Macao Greater Bay Area (Zhongshan) Dragon Boat Invitational Tournament was held in Zhongshan during the Dragon Boat Festival holiday. Data shows that the event was broadcast live through such media platforms as Xinhua, China Daily, GD Today and GDTV, with over 10 million views.
During the event, a series of culture and tourism activities were carried out, and Zhongshan received nearly 150,000 visitors in three days, up 85.73% year on year.
"I have never felt such a strong Dragon Boat Festival atmosphere. Elements related to the festival and dragon boats can be seen in many places. We can also experience the Dragon Boat Festival special tourist route to watch the dragon boat race on the Qijiang River up close and immerse ourselves in the intangible cultural heritage culture," said Mr Zou from Guangzhou who praised the culture and tourism activities held in Zhongshan.
For this year's Dragon Boat Festival, Zhongshan held over 330 culture and tourism activities of 140 categories, including the three major cultural events, namely the Dragon Boat Invitational Tournament, the Yakou Piaose Parade & Food Carnival, and the Guangdong-Hong Kong-Macao Greater Bay Area (Zhongshan) Martial Arts Exchange.