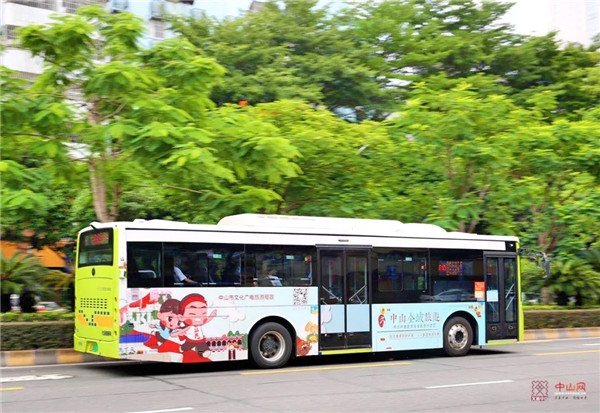 Nowadays, leisure tourism and short-distance tourism are popular among citizens. In order to promote green travel, the first batch of special bus lines for all-for-one tourism in Zhongshan were put into operation on August 11.
These special lines use high-class pure electric buses, whose bodies are primarily painted with cartoon IPs of Zhongshan's all-for-one tourism with cultural elements that represent the hometown of Sun Yat-sen. The first batch of special lines include B10, 087, K16, 057, 047 and 010.
These special lines connect such natural villages and important sightseeing spots in Zhongshan as the Tourism Area of Sun Yat-sen's Hometown, Chinese Rosewood Culture Expo City, Zhan's Garden, Zhongshan Hot Spring Resort, Kuchong Village, Yakou Village, Guhe Village and Zimaling Park. The buses serve as the "mobile platforms" for tourists to enjoy the landscape of Sun Yat-sen's hometown and learn more about Zhongshan.
The fare for these special lines is the same as that for other bus lines. Passengers can get on any of these buses and pay for the fare without advanced booking.