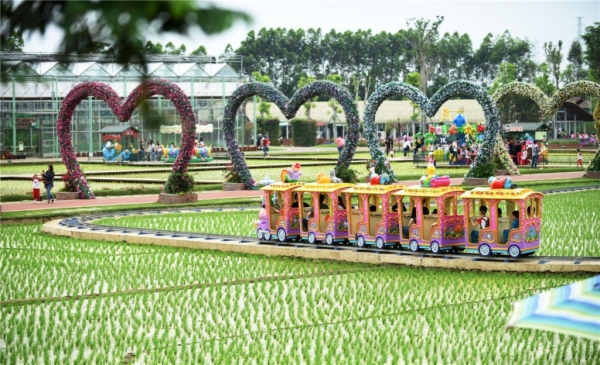 Diyin Lake Leisure Ecological Park. [Photo by Wen Bo]


Li Xiaojian, Director of the Rural Work Office of the Zhongshan Committee of Communist Party of China and Director of the Zhongshan Bureau of Agriculture and Rural Affairs, Wang Shaoqiang, Deputy Director of Rural Work Office, and Lin Haodong, Chief of the Rural Economic System and Management Section recently guested at the "People's Voice on Friday" radio program and exchanged views with the public on issues of rural revitalization and rural tourism.

According to Wang Shaoqiang, statistics show that there are 48 leisure farms covering an area of more than 50 mu (or about 3.33 hectares), 3 Provincial Leisure Agriculture and Rural Tourism Demonstration Towns (Minzhong, Guzhen, Sanxiang), and 13 demonstration sites (Minzhong Ankang Farm, Minzhong Weifeng Farm, Sanxiang Quanlin Villa, Shuixiang Four Seasons Country Park, Zhongshan Modern Fisheries Expo Park, Guzhen Southern Green Expo Park, Tanzhou Beautiful Villages, Minzhong Hefeng Garden, Diyin Lake Leisure Ecological Park, Cocona Jungle Leisure Agricultural Park, Minzhong Xiongji Fruit and Vegetable World, Shunlong Agricultural Development Co Ltd, and Luquansha Island) in Zhongshan.

Among the rural tourist attractions, there is a national-level AAA tourist attraction (Weifeng Farm) and two provincial-level AA agricultural parks (Weifeng Farm and Happy Farm), as well as three Guangdong town and villages of tourism (Minzhong Town, Cuiheng Village and Yongmo Village). Among millions of rural tourism brands promoted by China National Tourism Administration, Zhongshan has one village awarded as model village of rural tourism in China (Nanlong Village in Sanxiang Town) and three model units (Xujing Agricultural Science and Technology Park in South District, Quanlin Villa, Cold Autumn Museum).

It is introduced that Zhongshan rural tourism receives more than 4 million tourists a year, with a direct operating income of more than 200 million yuan. Since the beginning of this year, the Zhongshan Culture, Radio, Television and Tourism Bureau has launched three rural fine tourist routes including the "Zhongshan Mulberry Cultural Festival", "Nanlang Zuobu Village" and "Yakou Village". At the same time, this year, Zhongshan Bureau of Agriculture and Rural Affairs recommended Shaxi Xianglong Islet and Sanjiao Diyin Lake to apply for provincial agricultural parks.