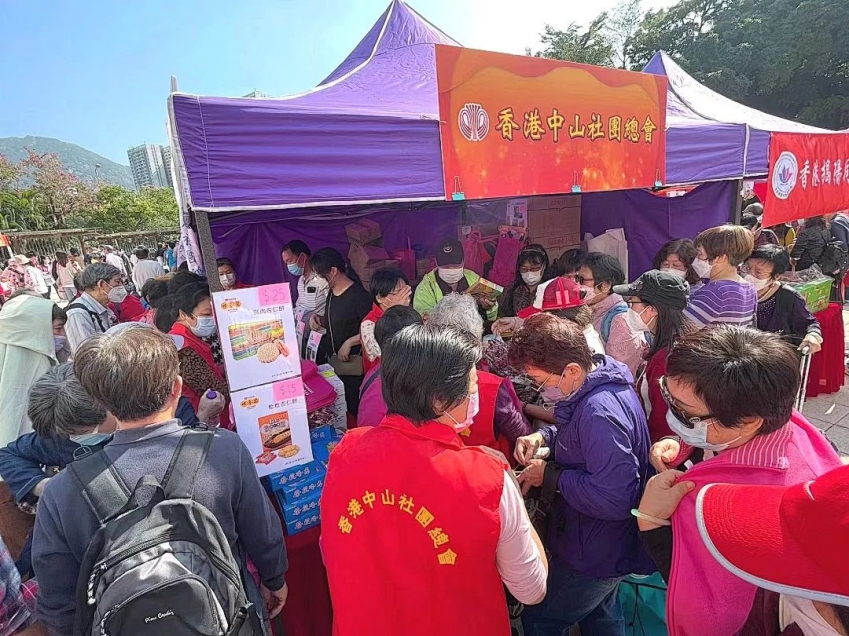 The 2nd "Hometown Bazaar" took place at the Tin Hau Temple Plaza, Tuen Mun District, Hong Kong days before.
The event featured food specialties, exquisite handicrafts and other items from different places in Guangdong. More than 50 stalls were set up to offer Cantonese culture experience and relieve the nostalgia of Hong Kong residents through exhibition and spot sale, art performance, game playing and other activities.
The Federation of Hong Kong Zhongshan Community Organizations purchased featured delicacies of Zhongshan such as almond cakes, chrysanthemum meat, Tuwei rose egg rolls, Huangpu cured meat and dried daces, to treat Hong Kong residents to the flavor of their hometown.
On the first day of the bazaar, more than half of the goods at Zhongshan's booth were sold, and some fell short of supply. "I've been away from Zhongshan for nearly three years due to the COVID-19 outbreak. This time I felt a strong sense of affinity with the specialties from my hometown Xiaolan, which immediately brought back my memories of previously participating in a chrysanthemum fair and enjoying a chrysanthemum feast back at my hometown," said Li Youquan, director of the Association of Siulamese in Hong Kong.