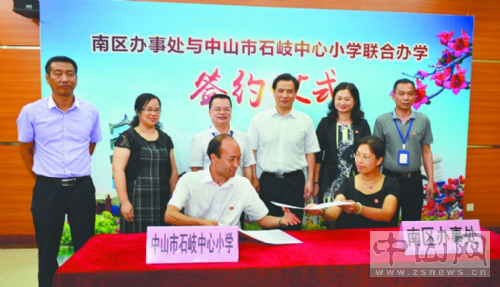 The picture shows the cooperation ceremony for Southern District Agency and Shiqi Central Primary School on July 1.
July 1 is party's 95th founding anniversary and also a good day for the education in Southern District. On that afternoon Southern District Agency and Shiqi Central Primary School held a contract ceremony for educational cooperation. Zhongshan Administration of Education and Sport Director Li Changchun, Southern District Party Work Committee Secretary Yuan Yongkang and agency head Chen Shumei witness the historical moment.
??
Zhuxiuyuan Central Primary School, originally called Zhuxiuyuan School, set up in 1932, has a history of 84 years as a representative of overseas Chinese schools founded in the early times of Zhongshan. Shiqi Central Primary School among the first batch of "Guangdong Class-A Schools", also one of the two best primary schools subordinated to the municipal government directly. Yuan tells this cooperation in Zhuxiuyuan Central Primary School is a vivid practice of expanding superior education resources and exploring a new education mode.