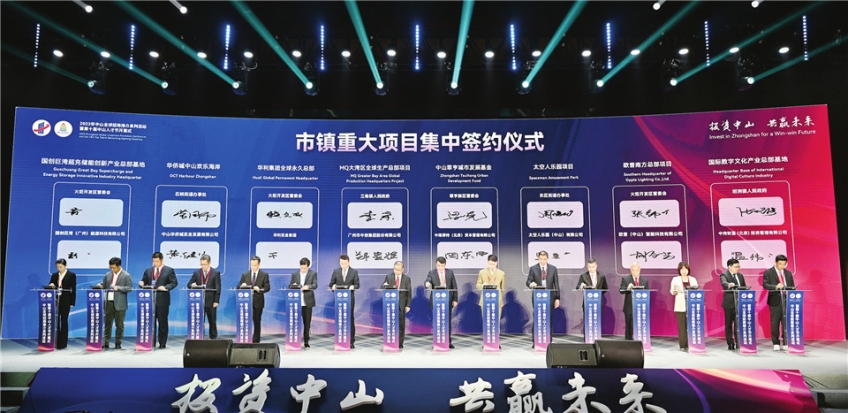 The 2023 Zhongshan Global Investment Promotion Conferences and the 10th Top Talent Networking, with the theme "Invest in Zhongshan for a Win-win Future", opened in Zhongshan on March 30, bringing together more than 500 outstanding entrepreneurs, high-level talents and people from all walks of life from around the world.
The event included both online and offline activities, with sub venues set up in Malaysia as well as in China's Hong Kong and Macao. It was broadcast live in Chinese and English to attract investors and talents at home and abroad.
Fourteen 14 industrial chain investment promotion activities, covering such industries as next-generation information technology, biomedicine and health, new energy and intelligent home appliances, would be held in different towns and districts, and delegations would be organized to promote Zhongshan's investment environment at home and abroad.
At the opening ceremony, a number of major projects were signed, including the MQ GBA Global Production Headquarters, a manufacturing project with an estimated output value of over 10 billion yuan. This year, 263 investment projects were signed, with a total investment of over 180 billion yuan, including 178 projects agreed and proposed to move in, with a total investment of over 90 billion yuan.
Among the 178 projects, 162 are manufacturing ones with a total investment of over 75 billion yuan, accounting for 83%. Besides, the conference introduced 23 high-quality projects seeking investment worldwide for the first time, covering a total area of 7,000 mu.
The 10th Top Talent Networking activity was also in full swing.