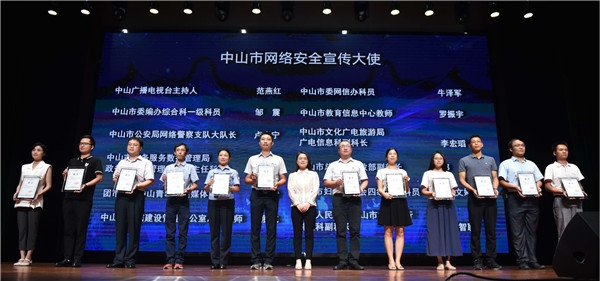 With the theme of "Cybersecurity for the People, Cybersecurity with the People", the 2020 Zhongshan Cybersecurity Week jointly organized by 12 government departments was launched at the Sun Yat-sen Memorial Library on the afternoon of the September 14.
At the launch ceremony, organizers awarded the appointment letters of "Zhongshan Cybersecurity Ambassador" to 12 citizens including Fan Yanhong, a MC from Zhongshan Broadcasting & Television Station, and Lu Xiaoning, commander of the Network Police Detachment of the Zhongshan Public Security Bureau. In the future, they will actively participate in cybersecurity-related promotion events.
At the ceremony, common cyber fraud methods found in daily life were demonstrated through a sitcom show.
The activity also invited consultants from such cybersecurity enterprises as QI-ANXIN and Sangfor Technologies to publicize relevant knowledge in terms of safe use of mobile phones, cybersecurity in the 5G era and prevention of ransomware and phishing emails.