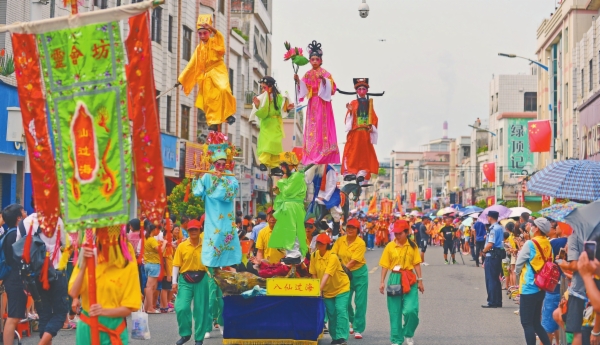 The 2019 Huangpu Piaose Cultural Festival was held on September 13. [Photo by Xia Shengquan]


The 2019 Huangpu Piaose Culture Festival, along with the 6th Piaose Cultural Art Festival of Sanshe Community, kicked off on the morning of September 13, with 30,000 people on site and more than 300,000 online participating in the culture and art feast.

A total of 24 versions of Piaose (literally, flying color) featuring historical allusions such as Chang'e Flying to the Moon and Peach Garden Oath, as well as folk legends, opera stories and cultural images with Guangdong features such as Uncle Le and Little Xia appeared in the parade.

"This is the second time I have been in a Piaose performance," said Li Zefeng, a grade two student at Huangpu Middle School. He got up at six in the morning to get ready for the performance.

The parade also included 10 folk art performing teams, including the National Flag Square and the Lion Dance Team, with more than 1,000 performers. The parade started at the Huangpu Township Government, traveled 1.5 km, and ended at Nankeng Market.

The Huangpu Piaose Cultural Festival will last nearly two months. In order to celebrate the 70th anniversary of the founding of the People's Republic of China, Huangpu Town will also hold 17 related activities, including a cultural performance and a painting competition for primary and secondary school students.