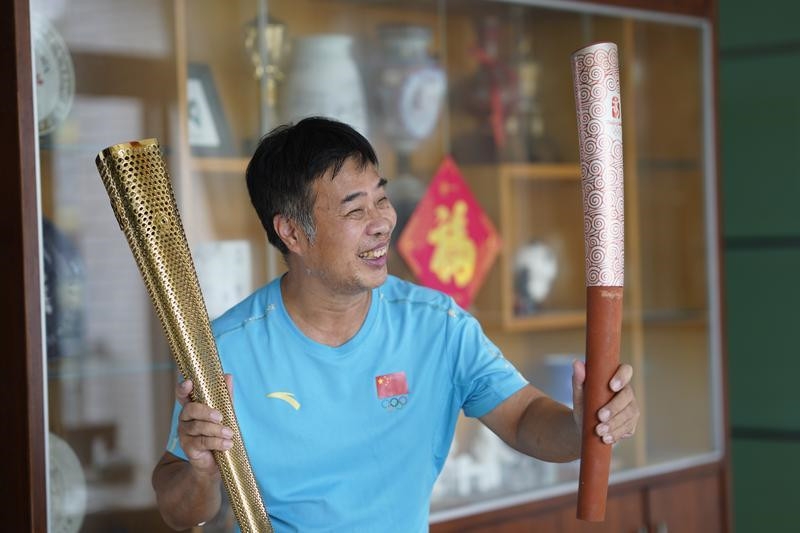 During the recently-ended Tokyo 2020 Olympic Games, Team China won 38 gold medals. Zhou Jianxiong, a civil collector in Zhongshan who has a special bond with the Olympic Games, has his hands full again. He is planning to collect the autographed photos of the 38 champions.
So far, he has collected the signed stamps of all Chinese gold medalists from the Beijing 2008, London 2012 and Rio 2016 Olympic Games, and an autographed photo collection is also ongoing.
Filled with his dazzling collections, Zhou's home is like a small "Olympic Museum". Among his collections, table tennis-related objects are displayed separately. He has uniforms belonging to such Olympic champions as Ma Lin and Wang Hao as, and hundreds of paddles autographed by world champions, Olympic champions and coaches, as well as championship trophies and medals from various national and international table tennis competitions.
The most renowned of Zhou's entire collection are the Olympic Torches. His first Olympic torch came from the Moscow 1980 Olympics. He bartered for it with a calculator and two pens in 1981, which inspired him to collect the Olympic torches as part of a series. "The size Zhou's collection is enough to support a high-quality, large-scale exhibition." Many praise Zhou's abundant sports-related collections.
"My greatest wish is to watch the Summer and Winter Olympic Games at home and abroad from the audience. My current goal is to visit the Beijing 2022 Olympic Winter Games," said Zhou Jianxiong.