http://www.zstorch.gov.cn
Tel: 86-760-85339333
Investment Hotline: 86-760-88283633.
Fax: 86-760-88283633.
Email: zsc@zstorch.gov.cn
Address: Administration Center, Kangle Av. Zhongshan Torch High-tech Development Zone, Zhongshan PRC. Postcode: 528437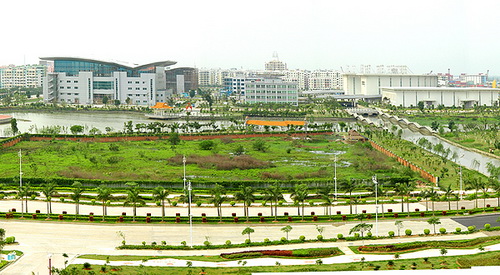 According to its master plan, the five-square kilometer central Torch Zone will be divided into eight functional areas including administrative area, exhibition area, life-related service area, entertainment area, R&D area, commercial area, residential area and educational area. It will become a modern commercial business area that integrates comprehensive functions such as science and technology, culture, logistics, information, entertainment and commercial business and accommodation.

It is planned that RMB 2.2 billion will be put into the construction of the central area and up till now RMB 1.6 billion has been invested in infrastructure construction. After all construction work finishes, there will be 1.6 million square meters of public assets and 3,500 Mu of commercial-purpose land, accumulating RMB 6 billion of public assets. It will be a remarkable progress made in Zhongshan's urbanization drive.
Most of the major buildings of New Scientific and Technological Park were completed by 2007 and the urban environment is being improved day by day. Projects in the central area like Administrative Center Building, Citizens' Fitness Square, Guobin Hotel, Century Plaza, Foreign Language School, Denenghu Park, International Conference Center, Industrial Exhibition Center, Hot Spring Holiday Hotel have been completed and put into use; Digital Building, Investment Building, Block B of Talent Tower, Dormitory of Business Incubator, Commercial Business Building, Commercial Center and the First-term Construction of Commercial Pedestrian Street and Business Incubator Workshop have almost been completed. The main part of Scientific and Technological Building has been completed. Hatching Center, Central Primary School and the second-term construction of Commercial Pedestrian Street have been in the course of thematic structure construction; the construction of Integrated Building of No.1 Middle School of Torch Zone has been started; Central Hospital, the gymnasium and the bus station have been in the course of programming. Investment attraction has been going well and over 60 organizations of finance, commerce and food service have registered to set up business in the zone.