An Overview of the Construction of National Ecological Demonstration Zone in Zhongshan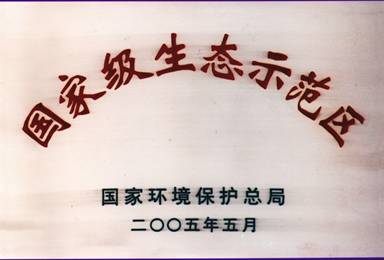 As the hometown of the great historical figure, Sun Yat-sen, Zhongshan is well-known at home and abroad. Awarded a whole host of honorary titles by international organizations and the state government, she is even more celebrated at present. In 1995, she was given the honorary title of "National Clean City", later she became a "National Garden City" in 1996, and in 1997, she won the "Habitat Scroll of Honor Award"; she was listed as a "National Model City in Environmental Protection" in 1998, and in 2000, Zhongshan was honored as "China's Excellent Tourism City". The improvement of environment has in turn promoted the rapid economic development in the city, as is well exemplified in the following aspects: in recent years, Zhongshan has always been among the first ones in terms of major economic indicators in Guangdong Province. The gross industrial output value and growth of export have ranked the first in the province for three successive years, making the city renowned in Guangdong Province. The efforts of the Zhongshan people in the environment and conservation have also been rewarded when the city becomes characterized by her greenness.
As soon as one has set his feet on Zhongshan, he must be impressed by the greenness in the city. Here, green are the mountains, the water, the fields, the industrial park and the city proper, and the economic development is as vigorous as a growing green tree. Facing the new century, the local government has set the goal of constructing the "National Ecological Demonstration Zone", showing the harmony between man and nature and that between economy and society.
"Whoever owns the ecological resources is bound to succeed in sustainable economic development!" Having been rewarded in preserving the ecological environment, the city sets a new goal of sustainable development: constructing the "National Ecological Demonstration Zone".
Under the guidance of the State Environmental Protection Administration and the local government, the planning of the zone was worked out by the cooperation of administrations of environment, construction, agriculture and forestry. Through extensive mobilization, experience learning, and science and technology utilizing, the construction has been carried out effectively, focusing on an ecological city with ecological agriculture, ecological forestry, ecological tourism and ecological industry, etc. Consequently, Zhongshan has successfully passed provincial inspection and been recommended as a pilot city of "National Ecological Demonstration Zone", which is the phrasal achievement.