Yung Wing (Rong Hong)—one of the first Chinese students to study abroad, first comprador in modern China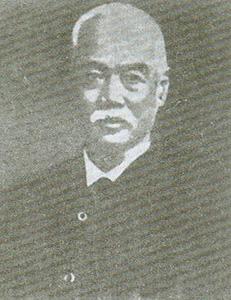 Rong Hong, better known as Yung Wing (1828-1912), born in Xiangshan County of Guangdong province, China, was a reformist in early modern period.
Graduated from Morrison School, Rong went to America where he studied in Yale in 1847 and finally graduated as the first international student in the history of China. After he got U.S citizenship, he went back to China in 1855, and did a lot of jobs, such as interpreter of the superior court of the U.K government, clerk of Silk and Tea Company in Shanghai, etc. In 1860, he went to Nanjing, the capital city of Taiping Heaven Kingdom, where he gave Hong Ren seven suggestions about the new policy. In 1863, he was assigned by Zeng Guofan, the warlord, to purchase machines for the establishment of Jiangnan Manufacture General Bureau. Soon he filled the vacancy of a governor. In 1874, he led 30 international students to America as both a supervisor of the students and a vice ambassador. He stayed in the U.S for a long time. In 1894, the Sino-Japanese War broke out. He introduced Sun Yat-sen to Li hongzhang to whom Sun submitted a proposal about reform. In 1898, he attended the Weixin Reform, which turned out to be a failure, and he escaped from Beijing. In 1900, he attended the famous Zhangyuan Meeting held by Tang Cairong, which was remembered as Congress of China, and he was recommended as president. Because he was wanted by the government, he had to escape to America via Hong Kong.
Later, he came to support Sun Yat-sen's revolutionary activities. Dying of illness in America in 1912, Rong wrong many books, such as the well-known My Life in China and America.